Summer is a time when everything tends to wind down for organizations not in hospitality — including sales. If you're in tech, software, or another non-hospitality industry, you need a way to keep your sales high and meet your quotas during the slower summer months.
Kickbacks, rebates, and giveaways are excellent programs to incentivize your customer base to adopt your product or service and become long-time customers. All it takes is getting a foot in the door — and offering the right incentives can help you get there.
How do kickbacks work?
A kickback is an incentive program that rewards customers for completing certain actions — such as bulk sign-ups, referring friends, or even just adopting your software. Kickbacks are similar to rebates and giveaways, which both reward customers for specific behaviors, but kickbacks tend to involve group sign-ups and it's often assumed the kickback will be in the form of money like a Visa Incentive Card — which can help you meet your sales quotas even faster.
These programs work best when you:
Offer rewards your customers want: Your incentives need to be, well, incentivizing to customers. Gift cards are popular choices for kickbacks and rebate programs because they're versatile and customizable.

Enforce limitations and conditions: Your rewards shouldn't be available to every customer for completing every action. Instead, these programs should align with your goals and encourage customers to complete actions that will help you meet those goals fastest.

Send the reward immediately: One of the basic tenets of behavioral psychology is the idea of delivering reinforcements quickly. You want to form a fast connection between the customer's behavior and your reward. We recommend automating your rewards program so that customers receive their incentives instantly.
Benefits of summer incentive programs
Everyone loves free stuff, and when you offer a free reward for customers who choose your tech company, you give them a solid reason to help you meet your sales goals. Kickbacks, rebates, and giveaways offer numerous benefits for your company:
Maintain your existing customer base & boost loyalty
Just because a customer has chosen your company once doesn't mean they feel any sense of loyalty to your brand. You must continue showing customers your company is the right choice.
Customer Loyalty programs go a long way toward maintaining your existing customer base. Approximately 75% of consumers favor brands with loyalty programs, as these programs create an emotional, personalized connection and incentivize customers to continue choosing the brand.
When you boost sign-ups or sales through ongoing kickbacks, your clients will be more likely to become repeat customers, helping you maintain your sales goals long-term.
Attract new customers
Companies are always looking for ways to save money, and many would rather choose a tech company that offers incentives for bulk or group-wide purchases than one that does not. Implementing a kickback program is an excellent way to attract companies who maybe would have never considered your tech previously.
Your brand can also benefit from kickbacks through the power of referrals. Offering rebates and rewards for existing customers who refer your brand to others can create a sense of loyalty from your existing customers and attract new customers.
Improve brand awareness
Getting your name out there is the first step in landing a new sale, and kickbacks are effective tools for improving brand awareness. Your company can launch giveaways that require participants to share the giveaway link with friends on social media or through text messages. Doing so spreads the word about your business and encourages more users to enter the giveaway, increasing your reach further.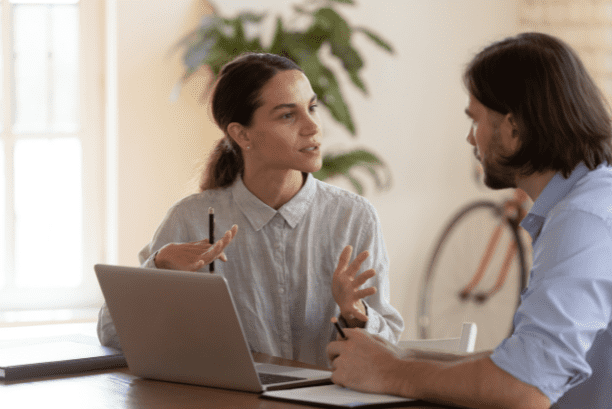 When participants enter your giveaway, you can obtain their email addresses and other contact information, which you can use for future marketing campaigns.
Build relationships with the right points of contact
You want to make sure you're targeting the right points of contact with your marketing efforts. Sending information about your software to a CEO may not be effective, but communicating with the business analyst or IT team probably will.
When you implement kickbacks, you'll begin building relationships with the people responsible for buying your software and rolling it out in their business. These professionals will be the ones entering your giveaways, allowing you to connect with them on a personal level.

Streamline kickbacks, rebates, and giveaways with Giftbit
Implementing a high-value kickback program doesn't need to be time-consuming, expensive, or complicated. With Giftbit, you can send e-gift cards in bulk when customers complete any desired actions: signing up, referring friends, renewing their contracts, or anything else.
Giftbit enables you to integrate rewards into your existing CRM platform and automate gift cards when users complete certain actions. Send customers a short link to an e-gift card within seconds of their sign-up and allow them to choose from hundreds of top brands like Starbucks, Amazon, Target, Visa, and more.
Giftbit makes it easy to boost your summer sales with rewards customers actually want. Sign up for free today to begin meeting your sales quotas the easy way.