As a small business or new startup, you need to get creative to boost sales. Outperforming your competitors can be challenging when you're new to the industry.
Are you pouring more capital into overhead costs than you'd like? One creative way to boost sales growth is through gift card incentives. Paying a small amount for gift card rewards can have a huge payoff in your sales and customer retention.
This article will explain how to use gift cards as rebates and sales incentive ideas to turbocharge your growth.
4 Ways to use gift card incentives to increase sales
Gift cards benefit several aspects of your business's sales strategy. Here are four unique ways to incorporate gift card incentives into your marketing process — and gain new customers.
1. Raise awareness through giveaways
Social media giveaways are popular sales incentive schemes because they work. Hosting a gift card giveaway on your own social media platforms is an excellent way to attract new customers and boost sales.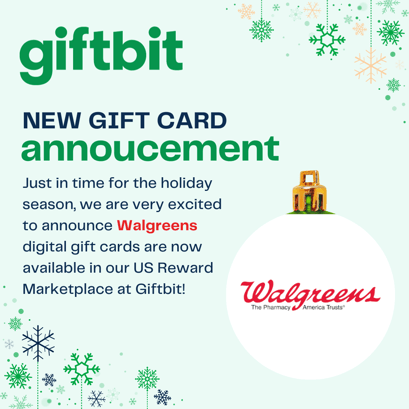 You can invite your current followers to "like" and "share" your social media post to enter the giveaway. Once they do, their followers will learn about the giveaway and your business as well. This kind of exponential sharing and awareness is invaluable, especially if you're going up against established competitors.
Offering e-gift cards as giveaway prizes means that the winners receive their rewards instantly.
2. Keep customers coming back with loyalty programs
When it comes to sales incentive plans, if you don't already have a loyalty program, it's time to build one. These programs can reward customers with e-gift cards for returning to your company.
Many point of sale systems allow you to build loyalty programs into your sales process. The first time a customer makes a purchase, they enter their contact information to join the loyalty program. Then, after visiting your business a certain number of times, they receive an automatic gift card reward.
Loyalty programs are easy to set up and automate and pay dividends in improved retention with existing customers. Take a look at the numbers: 49% of consumers spend more after joining a business's loyalty program. When customers know they are about to reach their loyalty reward, 64% will choose your business over competitors to unlock rewards.
3. Expand your reach with referral programs
Don't discount the tried-and-true success of word-of-mouth referrals. Consumers are often more likely to choose a business a friend has recommended than one they found through traditional advertising means.
A customer referral program can improve your customer loyalty and expand your reach. For example, you can send all of your customers a unique referral code that they can share with friends and family. When a new customer uses this referral code, you reward both the new customer and the referring customer with an e-gift card.
4. Convert leads with rebates
Offering gift card rebates encourages potential leads to convert into paying customers. A study from the Promotion Marketing Association shows that customers are 75.4% more likely to purchase a product if it comes with a rebate.
When customers are on the fence about where to shop, sometimes all it takes to win them over is a small incentive. Offering a rebate in the form of an e-gift card to popular stores like Target and Starbucks can encourage a customer to choose your business over competitors. Gift card rebates can even lead prospects to switch from another business to yours.
You can structure your rebates in a way that when customers purchase certain products or schedule certain services, they automatically receive email links to their e-gift cards. Most consumers don't want to have to send in a receipt, as many rebate programs require.
If you offer instant gift card rebates delivered via email, it's a no-brainer for customers to choose your business to save money on a product or service they were already planning to purchase.
Turbocharge Your Series-A-Funded Startup with GiftBit Gift Card Incentives
Here's the bottom line: Gift card incentives are effective tools to increase your sales. But you may wonder whether incorporating gift cards into your sales plan is worth the time and effort.
With Giftbit, you can amplify your sales without wasting time. Giftbit enables you to integrate automatic gift card rewards into your existing sales platform or software. You can trigger customers to receive an instant e-gift card when they complete certain actions, such as using a referral code or completing a survey.
Better yet, Giftbit allows consumers to choose their own gift cards from a list. By offering tailored rewards best suited for your customer base, you can leave the competition in the dust and build a loyal customer base who knows your business doesn't just offer fantastic products and services; you also sweeten the deal with gift card incentives!
Are you ready to begin using gift cards as sales incentives? Sign up for Giftbit today to supercharge your sales growth with gift cards.