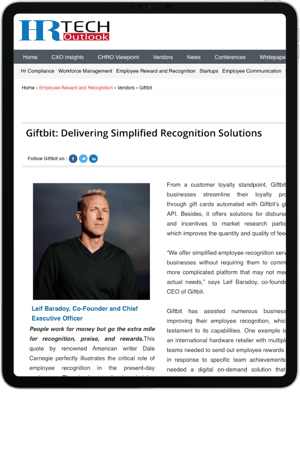 Giftbit was recently featured in HR TECH Outlook Magazine's Top 10 Employee Recognition Solutions Provider for 2022!
Giftbit CEO, Leif Baradoy discusses the importance of having a simple solution that doesn't get in the way of your recognition efforts.
Employee reward programs hold plenty of benefits. From attracting new talent, engaging and retaining existing talent, to motivating, celebrating and delighting your employees. When done effectively a successful rewards and recognition program will:
Increase productivity
Reduce attrition
Boost morale
Promote corporate culture and wellness
On top of providing the basics of an attractive workplace (like good salary, benefits & environment) rewards and incentives are a must for today's workplaces both local and distributed. Read the full article here.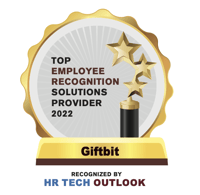 For more information about what Giftbit was built for, check out this subsequent Vendor Viewpoint article:
"Rewarding employees is critical to boosting retention, satisfaction, and productivity, especially in a remote-trending workforce" — Leif Baradoy