Marketing companies have increasingly started to take advantage of the psychological effect of gaming to get more clients to use rewards programs. They take the mechanics of gaming (missions, levels, rewards) and incorporate them into their loyalty initiatives.
According to USA Today, more than two-thirds of Americans play video games. Whether sinking onto the couch with a controller after a long day at work or playing competitive matches with friends, video games have an undeniable pull as a source of stress relief or good old-fashioned fun.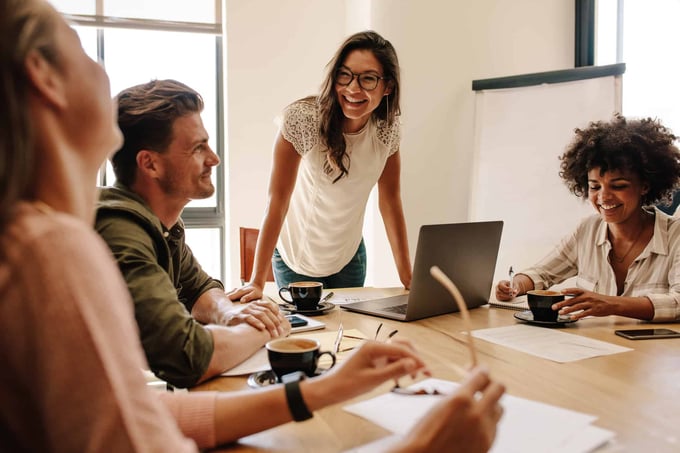 In this article, our team at Giftbit explores the gamification of rewards programs and how to get more clients by using the strategy effectively. Giftbit is a tool that lets you automate gift card rewards and track the results for insights into users—the perfect solution for sending prizes through your gamified rewards program.
Benefits of Gamifiying Rewards Programs
People love gaming. The gratification you get when you complete a task and level up make it hard to resist coming back for more. Carrying this effect over into a rewards program can have a significant impact on customer engagement, loyalty, and more.
Keep Customers Engaged
A Salesforce report found that 80% of customers care as much about the experiences a company provides as they do about its products and services. One way to provide a great experience for customers is by giving them a fun, rewarding game to play. It gives them a reason to stay engaged, bringing them back to your platform to get a daily reward or maintain their hot streak.
Solidify Customer Loyalty
Gamification creates a steady stream of desirable rewards for a customer's efforts, which builds trust and gains their loyalty. After they reach a certain level or complete a goal, offer an exclusive prize that they can achieve after spending a certain amount on your products. If the popularity of mobile games is any indication, even a virtual reward is enough incentive to stay loyal.
Increase Value of Marketing Costs
Gamifying your rewards program can help you drive customer lifetime value (CLV), a metric that predicts the profit you gain from each customer over their lifetime with your business. Ideally, the amount you make from every customer exceeds how much you spend on marketing to acquire their patronage. To achieve this, strategies include tasks that reward points for interaction, purchases, or providing information that will help you personalize their experience with your company.
Entice Potential Customers
As of 2021, consumers in the U.S. are members of, on average, 16.7 loyalty programs but actively only use half of them. People are willing to join loyalty programs for the sign-up benefits, but customers need a reason to keep using them. Gamification can motivate prospective clients to stay active with your loyalty program.
Ways to Generate Leads With Gamification
What kinds of features can you use to gamify your rewards program? The following are common examples of game-like mechanics that get customers to interact with your brand.

Tasks and Daily Challenges
Daily challenges are a popular feature for online games and serve a similar purpose for loyalty programs: getting people to check in every day. While a game might ask you to win five matches, your loyalty program could ask a customer to download the app or update their profile for points.
Streaks and Milestones
Streaks require less work than challenges, but they still get customers to open the app every day, increasing their engagement and creating the habit of coming to your brand. Encourage customers to sign in every day for a month to earn a reward, like a gift card.
Giftbit lets you automate gift card rewards for streaks and milestones when you integrate with our API.
Levels
Leveling up gives you a sense of accomplishment through visible progress. You might reward customers every five or ten levels, which they reach by making purchases. Resetting their progress every year or two can help give a sense of urgency and make leveling up a priority.

Virtual Rewards
While tangible rewards like gift cards or discounts are the true motivation behind loyalty programs, supplementing them with virtual rewards like badges or achievements will keep customers happy between the more desirable prizes.
Leaderboards
Many people have a competitive spirit, so having a leaderboard showing rewards program progress for all your customers can naturally boost engagement. They might go above and beyond to advance their level or number of points just to see their name at the top.
Rewarding Is Easy With Giftbit
Whether you're a business owner hoping to find new clients and grow your business or a marketing agency looking for a solution about how to streamline your buyer's journey with gamification, Giftbit helps you get rewards to your loyalty members without breaking a sweat.
Save time with bulk sending or integrate with Zapier to connect with thousands of apps to send automatic rewards.
Now that you know how to get more clients with gamification, you can learn how Giftbit simplifies your rewards program. Sign up free to get started.