Gift Card Tracking and Reporting
Get stats on everything you need to monitor the success of
your reward program including insights on delivery and
user behavior. Making it easier for you to evaluate the
Return on Investment of your reward program.
Get insights into your reward program
Track gift card campaigns by running a report or viewing your history. View the total dollar amount of gift cards that you've sent, who has claimed their gift card, and how much you saved through credit back for unclaimed gift cards. Allowing you to monitor your budget and oversee program growth quarter after quarter
Run experiments to increase your program success
Easily A/B test your gift card offers to see if one is more effective at being claimed. Running A/B tests on your reward program helps you pinpoint the secret sauce of a highly successful gift card offer and minimize the number of unclaimed gift card offers in your reward program.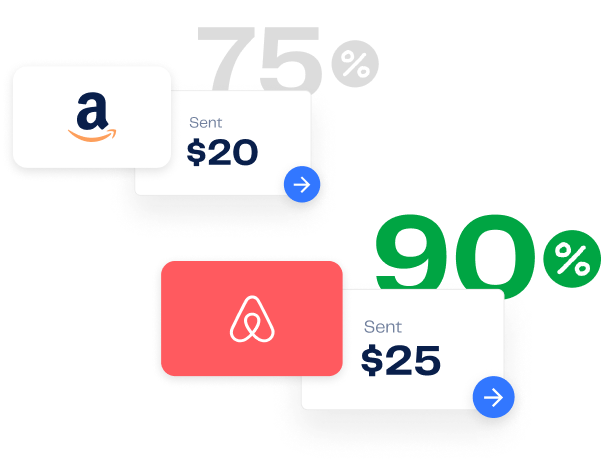 Learn and optimize
Use stats available through gift card reporting to finetune your process and refine your rewards program. Reports allow you to judge the success of gift card campaigns to budget in the future accurately and quickly share results with teammates to make informed decisions about any improvements necessary. Reports help you to understand the wants of your users better and identify if you're on track to hit your program goals.
With reporting through Giftbit, you can track:
Email delivery
Open rates
When users claim rewards
Which brands your users select
Number of reward redemptions
Number of rewards sent